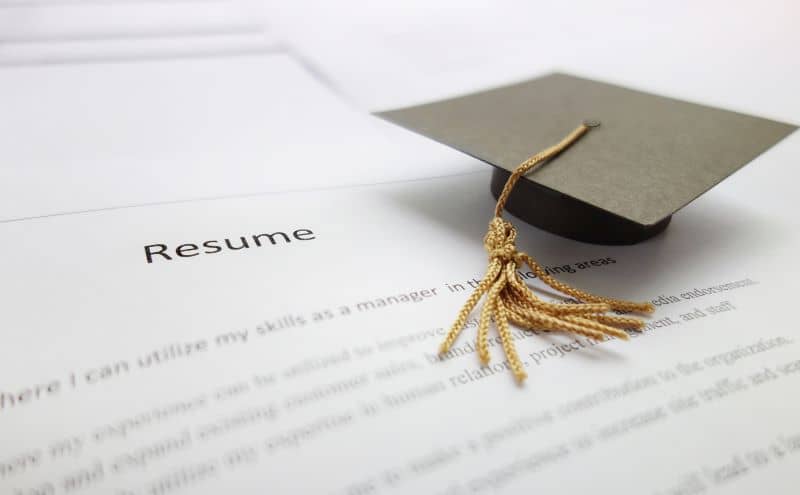 How To Craft The Perfect New Grad Nursing Resume
If you've recently graduated from nursing school and passed the NCLEX—or are about to do so—congratulations on getting this far!
Now for the next big hurdle: crafting the perfect new grad nursing resume and finding your first nursing job.
Your success will depend on how you present yourself in your new graduate nursing resume.
While our profession has seen many changes in recent decades, the need for a well-written, new grad nursing resume remains constant.
Experts Answer Top Questions about New Grad Nursing Resumes
1. Why are nursing resumes important?
First impressions are important, and your new graduate nursing resume provides that first impression to your prospective employer.
Experts tell us that employers spend an average of six seconds looking at each resume before they decide to keep or toss it. Your resume is likely your only chance to connect with an employer and secure an interview.
2. What should I include in my new grad nurse resume?
Opinions on this have changed through the years, said Donna Cardillo, RN, MA, a nursing career specialist and advice columnist based in New Jersey.
"Years ago, we were told not to put prior work experience in a resume, but today, many come into nursing with prior work histories, so it's important to include this."
Ali Marasigan agreed. She is one of 60 nurse recruiters with Banner Health, which has hospitals and outpatient facilities in six states.
3. What about new nurses who don't have any work experience?
"We like to see where they did their clinical rotations," Marasigan explained. "We may be able to see what hospital in our network they have been exposed to, so when there's no work history, this is an import piece."
4. What are some specific DOs and DON'Ts for new grad nursing resumes?
There are many sample new graduate nurse resumes and new graduate nursing cover letters online. Employer preferences change, so DO make sure you use recent samples from authoritative sources.
DO use the chronological format for your work experience. List jobs starting with the most recent. If experience is limited, focus on skills, special activities, volunteering, and association with professional organizations.
DO use good quality paper without designs or borders. Use 1-inch margins, 12-point type, and an uncluttered look. Use bullet points.
DON'T include a photo or list health, hobbies, marital status, family information, or your GPA. "Recruiters tell us that …you can have a high GPA, but that doesn't make you a good clinical nurse," Cardillo says.
DON'T list references or says "References available upon request." This is understood.
5. Are hard copies of a new graduate nursing resume still necessary?
Absolutely, said Cardillo.
"It's important to have hard copies because you can take them to a job fair or when you go to an interview in case they can't find your records. Hard copies are all part of self-marketing…and show that you are savvy in the job search."
6. Should I have a new graduate nursing cover letter to accompany my resume?
Yes, say the experts. Here are some guidelines:
Keep your new grad nursing cover letter brief and to the point.
Avoid "To whom it may concern." Know the name of the person who does the hiring.
Tailor your letter to the employer. Mention their mission statement and how your goals match. Tell a brief personal story that illustrates why you want to work in a particular area, and list any unique skills pertinent to the position.
Thank the reader for his/her time, and include your phone number.
7. Should I also use social media?
Those preparing a new-graduate nursing resume should remember that, in the digital age, a traditional resume is just one tool in the job search.
"Newly licensed nurses have to use social media," Cardillo advised. "You need a good LinkedIn profile – complete and up to date. A lot of nurses don't do this, and many recruiters these days are almost more interested in a LinkedIn profile than a regular resume."
And once you land that interview, "check the LinkedIn profile of the recruiter. Know more about them. You might have something in common. Maybe you worked in the same place or went to the same college."
8. What should I know about online applications?
Besides a resume, many health care institutions require that you complete an application form that contains screening questions. These provide a personality assessment and evaluate work behaviors.
"Take your time answering these questions," explained Marasigan. "These predict success in the workplace."
After submitting the application, be prepared for a phone interview, she advised.
"[The recruiter] will ask situational-based questions. For instance, 'Tell me about a time that you stood up for something you believed in,' or 'Tell me about a time when you had too much work to do and had to prioritize.'"
Nurses applying for travel nursing positions with staffing agencies will start with an online application and phone interview, as well.
9. What is the current status of the nursing job market?
It couldn't be a better time to be searching for a new grad nursing job, Cardillo said.
In the not-too-distant past, hospitals and other health care institutions were downsizing, laying off staff, and even closing, "but the job market today is hot for new nurses. Hospitals are hiring and some are even offering sign-on bonuses."
"It's a good time for new grads. We realize with the baby boomers close to retirement that many units are taking and training new grads now. Otherwise, they will be in a pinch."
RELATED: