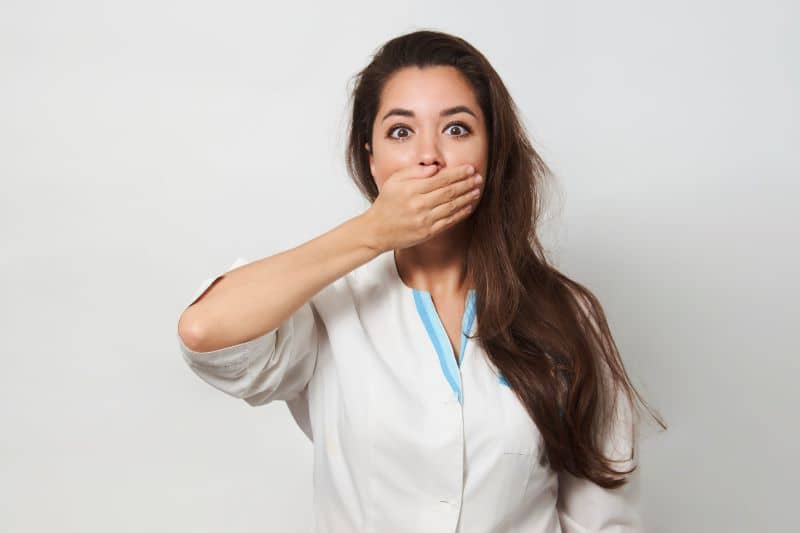 10 Common Mistakes New Grad Nurses Make
Congratulations on graduating from nursing school! You know how hard you've worked to get to this point.
Now that you're starting your nursing career, it's important not to sabotage yourself by making some of the mistakes that new grad nurses often make.
No one expects a new grad nurse to be perfect, but you can learn from others' mishaps.
So take to heart these tips for new grad nurses, offered by experienced RNs and nursing leaders.
STILL DECIDING where to start your career? Discover The 15 Best Cities for Nurses.
Top 10 New Grad Nurses Mistakes
1. Not preparing for the job interview
Learn as much as you can about your potential employer, and then make a list of questions for the interviewer.
"You absolutely need to prepare for your interview," said Linda Yoder, PhD, MBA, RN, AOCN, president of the Academy of Medical-Surgical Nurses. "You need to put your best foot forward, but you also want them to understand that you know what critical elements the nursing work environment consists of."
2. Dressing inappropriately for the interview
Young new grad nurses may not realize how important it is to dress professionally when interviewing for new grad nursing jobs.
Leave the short, tight clothes at home. And, "If it looks like a flip flop, it probably is a flip flop and is not appropriate," said Yoder.
3. Letting it all hang out on social media
One of the most important tips for new grad nurses is to take a good look at all your social media accounts.
Do you really want a potential employer to see those college pictures on Instagram or read the comments about your spring break trip on your Facebook page?
Lock it all down, or get rid of anything that could potentially harm your employability. And don't ever badmouth an employer, past or present, on social media. It could come back to haunt you.
4. Focusing only on the nursing salary
It's not just about the money—or it shouldn't be.
"New grad nurses are sometimes lured into jobs based on pay rate alone, without considering other important elements of the job, such as company culture, opportunities to be mentored, or to engage in additional education or training, and even flexibility and other fringe benefits," said Shari Harding, PMHNP-BC, CPRP, professor of nursing at Regis College in Boston.
5. Not thinking ahead
Don't blindside your new employer with a vacation request right after you start your job.
"Don't take a job and then walk in the door and say, 'My friend is getting married in a week, and I need (a few) days off,'" said Yoder. If you know you're going to need some vacation time for a family event or a trip, speak up during the interview or when you're accepting a job offer.
FIND more tips for new grad nurses and nursing news in Onward's Resources section.
6. Not understanding your limits
"Many new grads feel as though they are ready to independently care for full patient loads immediately after completing orientation," said Carrie Silvers, MSN, RN, professor of nursing at the University of Arizona.
"They later realize that this is a mistake in judgment on their part and quickly learn to appreciate the expertise and support of experienced nurses," she said. Reach out to veteran nurses when you feel like you're getting in over your head.
7. Not asking for help
No one will expect you to know everything when you're brand-new on the job. So don't be afraid to speak up when you're uncertain or have a question.
"Always be honest when you don't know something," said Wendy Foad, MS, RN, NEA-BC, interim vice president and chief nursing officer at Stanford Health Care. "Don't make stuff up!"
8. Forgetting that it's all about the patient
Remember to keep your focus on the person for whom you are caring. It's easy to get bogged down in all the tasks you have to do—and then you lose sight of the person in front of you, said Foad.
"Keep the patient at the center of what you do, every minute of the day," she said. She pointed out that the patient's family matters, too. "Do what you do every day 'with' the patient and family, not 'to' the patient and family."
9. Skipping career-building opportunities
Don't just show up for work. Once you're established in your nursing job, look around for ways to get involved.
Consider volunteering to serve on a committee, such as a unit quality committee or nursing practice council.
These opportunities can help you establish a reputation as being proactive—and help you network and connect with people that might help you down the road.
"It's things like that that give people a very different perception of you than when you're not engaged," said Yoder.
10. Waiting longer than necessary for career options like travel nursing
Nurses no longer need to log several years in a regular job before they consider opportunities away from the bedside, or want to try travel nursing.
After a few months of experience in your specialty, you can contact the recruiters at Onward to learn about travel opportunities. Just don't miss out on this exciting new grad nursing job because you assume it's not an option.
Yoder urged new nurses to remember that nursing is indeed a career, not just a job. If you remember that at all times, you can position yourself to make the best possible decisions as you go forward.
ONWARD HEALTHCARE is ready to help you move onward and upward in your nursing career:
• FIND new grad nursing jobs or travel RN jobs for any stage in your career;
• APPLY TODAY to start working with one of our friendly recruiters.