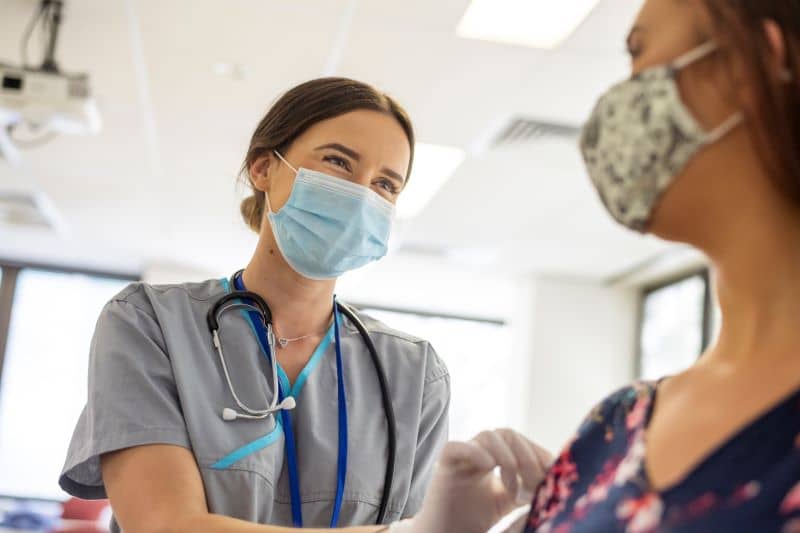 5 New Grad Nurse Fears–And How To Overcome Them
Are you a new grad nurse trying to find the courage to face down fear about your new nursing career or job?
New grad nurses start their first jobs with many of the same concerns as the nurses before them, regardless of their role or specialty.
Simply knowing that you're not alone with these problems can help relieve some of these anxieties, but you also need to take specific steps to manage stress and turn your mistakes into positive learning experiences.
Common challenges for a new grad nurse can include:
Finding a mentor
Maintaining enthusiasm
Obtaining continuing education
Worry about medication errors
Dealing with difficult patients
1. Finding a Mentor
Mentors and coaches provide some of the most effective means of alleviating the concerns of new grad nurses by fostering confidence and competency. Mentors help nurses achieve professional excellence over the long term, while coaches provide answers to specific concerns.
Robert G. Hess Jr., Ph.D., RN, FAAN, executive vice president and chief clinical executive of OnCourse Learning, recommends looking for mentors and coaches on your unit who are competent and popular.
Mentors don't necessarily need to be superior, but they should be senior nurses with several years of experience and well-established social relationships with other nurses.
Once you get over the fear that you won't find a mentor, you'll have a trusted supporter to who you can speak about other fears.
2. Maintaining Enthusiasm
Maintaining enthusiasm for your chosen career can be especially challenging for professions with a high burn-out rate like nursing.
Hess recommends that as a new grad nurse, you may want to spend the majority of your time with unit leaders who are intensely enthusiastic about becoming better nurses.
These role models know that a positive attitude is a requirement for new grad nurses, in addition to the necessary education and experience.
Spending time with winning nurses who have a good reputation on the unit is one of the most effective methods of ensuring a smooth nursing career progression — plus, it can be good for your overall morale and nurse job satisfaction.
3. Obtaining Continuing Education
Rapid technological advances in healthcare ensure that continuing education will be more important in nursing than in many other professions.
Hess points out that a new grad nurse may not yet possess the skills needed to solve multiple clinical problems, although they can be developed during the pursuit of an advanced degree.
Hess adds that returning to school as quickly as possible also allows new nurses to associate with other students who are just starting their careers.
These students can provide new nurses with a supportive nurse network away from work to serve as a sanity check on their work environment. This process helps nurses identify the areas where their current job is atypical.
4. Medication Errors
Medication errors are one of the greatest fears of all nurses, regardless of their experience. Making a medication error can put your patient at risk of injury, illness, or even death.
Medication errors can generally be classified into mistakes with the dosage or providing the wrong medication entirely.
Nurse Journal reports that administration errors account for nearly a third of all medication errors. All nurses can make these mistakes, but a new grad nurse is more likely to do so due to factors such as lack of focus and nervousness.
Leaving your personal problems at the door is the single best way to avoid medication errors since it's otherwise impossible to focus entirely on your patients.
Other tips to avoid medication errors and improve patient safety include:
Not relying on your memory and always referring to documentation to select the right dose.
Verifying a patient's allergies and other reactions to a particular drug just before administering it — even if you already think you might have done so.
Checking the patient's chart for critical conditions and diagnoses that may interfere with medications, since these can change frequently.
Verifying the patient's weight before administering medication to ensure the correct dosage.
5. Difficult Patients
Dealing with difficult patients can be a major challenge, especially for a new grad nurse. Some people are always hard to get along with, but this problem can become much worse when their mental functioning is impaired due to drugs, pain, or illness.
Establishing rapport with a patient is often more a matter of listening than trying to say the right thing.
The relationship between nurse and patient should be built on trust, so it's vital that you never directly lie or even mislead a patient. Trust is typically difficult for a nurse to earn and may never be regained once lost.
Looking at a problem from the patient's perspective often provides an effective means of communicating with them, according to Charlene Berube, of the Simmons School of Nursing and Health Sciences in Boston.
She says, "My belief for many people is that either their best or worst self presents itself at that time of a health concern." Berube adds that the patient's experience should be the focus, rather than the nurse's perspective.
Whatever your fears about nursing or your next job might be, know you're not alone. If you're scared to perform a certain procedure, talk with your supervisors or other nurses, and get some practice.
And, as Hess says, surround yourself with positive people to keep negativity and future fears out of your career.