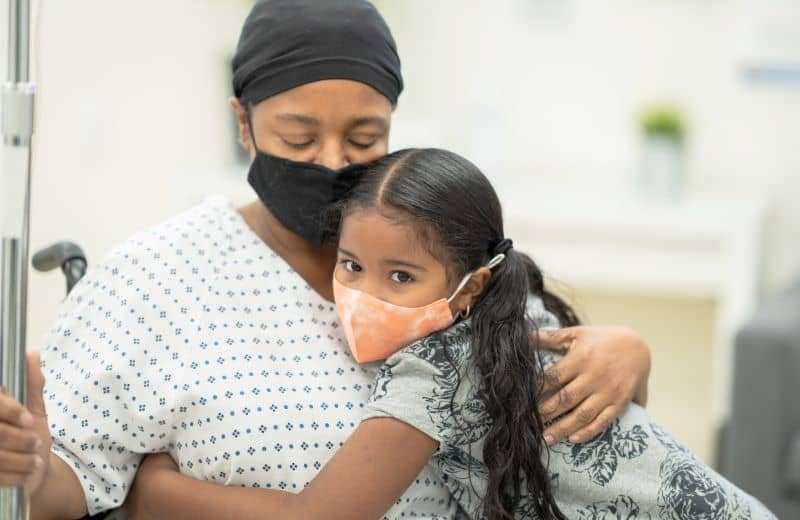 Caring for Cancer Patients in the COVID Era
Almost 1.9 million new cases of cancer will be diagnosed in the United States in 2021, according to estimates from the American Cancer Society (ACS). More than 608,000 Americans may die of cancer this year, too.
Since the COVID-19 pandemic began, it's been an especially challenging time for the oncology nurses and other healthcare professionals who care for cancer patients--from the time of diagnosis until the end of treatment.
They've had to cope with exhaustion, fear, burnout, supply chain delays, and staffing shortages. They've worried about their immunocompromised patients, as well as their own safety.
And just when people were getting vaccinated and things were looking up, the Delta variant made its appearance.
"Delta threw us all for a loop," said Nicole Zylstra, BSN, RN, coordinator of the outpatient hematology–oncology clinic at Children's of Alabama. "There's no doubt about that."
While many oncology nurses admit that they're tired, they remain committed to their patients. And they are proud that they and their colleagues have found ways to continue caring for the people who need them more than ever.
Find oncology travel RN jobs across the U.S.
The Implications Of Delays In Cancer Care
When the pandemic began in 2020, everyone was vulnerable. Healthcare organizations implemented COVID-19 precautions to keep both their patients and their staff safe. That meant rigorous PPE requirements, more screening requirements such as temperature and symptom checks, and fewer (if any) family members accompanying their loved ones into the hospital or clinic.
Limiting social connections and the support that comes with them was stressful, said Kimberly Peterson, MSN, APRN-CNS, ACCNS-AG, OCN, nurse manager for outpatient oncology at the University of Maryland Greenebaum Comprehensive Cancer Center.
"While a patient is being treated for cancer, we promote and rely on a strong social network of family, friends, and the community for support. However, with COVID-19, there has been an increased emphasis on limiting contacts and maintaining social distancing from others," she said. "The ability to attend appointments, obtaining adequate food to meet nutritional requirements, and having the emotional support needed during cancer treatment has been negatively affected by the pandemic for patients with cancer."
"That's the difficult part for the patients with active cancer," agreed Marlon Saria, Ph.D., RN, FAAN, director of clinical education and professional practice at Providence Saint John's Health Center in Santa Monica, California, and a member of the Oncology Nursing Society.
Additionally, healthcare facilities needed to focus their resources, so they began to cancel elective procedures and postpone routine screenings and other non-urgent care. While necessary, those measures, unfortunately, led to delays in cancer screenings, diagnosis, and treatment, which may have long-term implications. We may see more later-stage diagnoses and preventable cancer deaths, according to the ACS.
"Surgery has been delayed for many patients," noted Gail Trauco, RN, BSN-OCN, patient rights advocate, grief mediator, and founder of Medical Bill 911. "Delay of surgery adds unnecessary stress to any patient's life."
Creative responses for oncology patients
Cancer clinics and hospitals had to be flexible as they gained more knowledge about COVID. Many responded by getting a little creative to make sure their patients received the care and treatments that they needed. Some facilities began pre-screening patients in advance of their in-person visits. Many reconfigured their waiting rooms and infusion rooms, spaced out appointments, and offered telehealth options. Later, some clinics even began offering COVID-19 vaccines.
"In early 2020, there were so many questions and unknowns about what we were about to experience with COVID-19 and how we were going to be impacted," said Peterson. "Our team quickly came together to collaborate and anticipate the needs of our patients and how we would overcome these challenges to meet the needs of our patients with cancer."
Flexibility was key to enabling them to provide ongoing care during an uncertain time. For example, Peterson's facility expanded the weekend treatment capability in their outpatient infusion area and even began offering evening treatments during the week.
When the pandemic began, the team at Children's of Alabama's outpatient hematology–oncology clinic began calling patients with a long list of prescreening questions. And at first, they would reschedule any patients who'd been exposed to COVID or tested positive for the virus. But they started having second thoughts about that approach.
"We got to looking at it like, 'This is really not the best care for our patients.' Cancer does not stop," said Zylstra. "We still need to take care of these kids."
So they converted one of the clinic's hallways into a COVID unit and created a specific process that would allow them to bring pediatric oncology patients into the hospital safely. They started prescreening patients in advance and arranged for patients who had tested positive to visit the COVID hallway. They designated restrooms and arranged for boxed meals to be delivered from the cafeteria, all in an effort to make sure that those patients could continue receiving treatment without risking other vulnerable patients.
The Future For Cancer Care Amid COVID
The pandemic isn't over. The Delta variant continues to surge, and there are still many unknowns.
Even now, with COVID vaccines widely available, cancer patients may be more vulnerable than others. As the American Cancer Society cautions, people undergoing treatment for cancer that weakens their immune system may not be fully protected even if they are fully vaccinated.
Many healthcare organizations continue to struggle with staffing in the wake of the pandemic–on top of a nursing shortage that already existed. This will undoubtedly affect cancer units, too. And as Saria noted, oncology nursing is very specialized. "You can't just pull a nurse and ask them to go work in oncology," he said.
Many organizations have turned to oncology travel nurses to help support their permanent staff.
In the meantime, Saria said he would encourage other oncology nurses to remember that everyone's doing the best they can during a difficult time. "Just be kind to each other," he said.
Oncology nurses can also access a list of resources from the Oncology Nursing Society (ONS), for more advice and information about caring for cancer patients during COVID outbreaks.
Onward Healthcare has oncology travel nurse assignments across the U.S.
APPLY TODAY to find your ideal assignment.