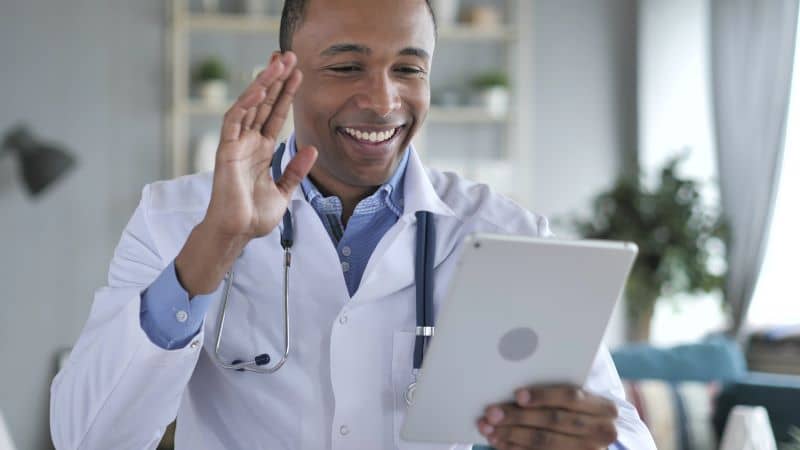 5 Communication Techniques To Connect With Patients Quickly
Establishing a good rapport with your patients through eye contact and using their names during conversations helps you connect with them quickly. Explain things clearly and concisely, especially when attempting to educate patients on complex medical conditions, and be patient while answering any questions they have. Encourage patients to go into detail about their health concerns and truly listen to them without interrupting or attempting to prod them along. These are just some of the many communication techniques that help you connect with your patients. Some of the top experts in the medical field offer five more communication techniques to work into your repertoire.
1. Use common sense
Dr. Michael Barness is a board-certified psychiatrist and owner and operator of Mindful Medicine. He stresses the importance of using common sense. "Don't forget the simple things," Dr. Barnes advises. "Don't stand over the patient when speaking with them. Try to get eye level when possible. Smile and treat them with respect. Listen and try to understand them. Remember patients are in a position of vulnerability and illness. Using that to guide interactions will increase your chances of connecting with patients."
2. Take a personalized approach
Dr. Velimir Petkov, a board-certified podiatrist with 13 years of experience, is the Medical Director at Premier Podiatry and believes in developing a personalized approach. "What works for one patient will not necessarily be ideal for another," Dr. Petkov warns. "We like
to greet our patients by name, even when they call or text us. We use a caller ID that's integrated with our Electronic Health Records system." We also write little personal details about them that we can chit-chat over," explains Dr. Petkov.
"We like to know who enjoys traveling, who works out in their spare time, and who is into baking cupcakes. We send each patient a handwritten thank you card after their initial visit, as well as a birthday card two days prior to their special occasion. We also host different patient appreciation events in our office on a regular basis."
Find travel nursing jobs at Onward Healthcare to explore the country and learn new communication techniques in a variety of settings.
3. Ask clarifying questions
"I would say clarification is a communication technique I use often," says Amelia Roberts, BSN, RN and Visibility Expert at Solutions by Amelia. Because most of her interaction as a clinical program coordinator is over the phone, Roberts stresses the importance of clarifying questions."
For example," says Roberts, "when labs come back and they show the patient has increased disease activity, we need to clarify how they're taking medications. We may ask if they're taking their medications, and the response may be yes. Yet there may have been a dosing frequency change made to a specific drug without the patient fully understanding when this new dosing is to start, leading to under-medication and poor disease control. We need to clarify how they're taking their medications and what days and times each of the medications are being taken."
Ilene Schwartz, RN, BSN, and LNC at Pegalis Law Group, agrees that in light of prevalent medical errors today "the skill of seeking clarification can't be overemphasized, both with patients and coworkers. Nurses need to always ask for clarification if something sounds strange, not right, or confusing. Literally, saying 'Can you explain it a little more to me? I want to make sure I get it right,' is always the best way to go."
4. Utilize active listening
Schwartz also believes one of the best therapeutic communication skills nurses use to connect quickly is "active listening, which can even include using silence to let the patient gather their thoughts and broach a subject. Actively listening to both their verbal and nonverbal cues and really acknowledging what a patient is saying is very important."
Maryann Mathai, LPCC, LMHC, LPC, NCC, specializes in trauma, anxiety, and depression. She's passionate about helping her clients process the overwhelming experiences that hold them back from experiencing happiness and living fulfilling lives.
"It's incredibly important to actively listen to what your patient is saying and reflect back to them that you understand their complaint," stresses Mathai. "Because of time constraints and high demands, countless healthcare professionals speed up the patient interaction at the detriment of building rapport. Practice active listening by asking questions, clarifying, reflecting back what is said, and displaying nonverbal signs of listening, such as nodding or smiling."
5. Communication techniques through multiple channels
Dr. Petkov also emphasizes the importance of providing patients with multiple channels of communication to connect with patients quickly and effectively. "In our practice, we provide patients with various ways in which they can get in touch with us" Dr. Petkov explains. "We have a LiveChat running on our website during business hours. People can also use it after business hours to leave us a message. Our office supports two-way texting. Patients have 24/7 access to our integrated online portal where they can review their prescriptions, lab and test results, read home-care instructions, etc. They can also use it to message me or my staff directly. We give them the opportunity to e-mail us and we monitor that mailbox around the clock. Most importantly, we do our absolute best to reply to each message before the end of the workday."
Lastly, Dr. Monisha Vasa, Clinical Advisor with the Mental Health Collective, reminds clinicians that they have a narrow window in which to establish rapport and trust. Addressing patients with respect and positive body language, while maintaining a non-judgmental, patient-centered approach, goes a long way toward making patients feel safe in a stressful situation and helps open the lines of communication.