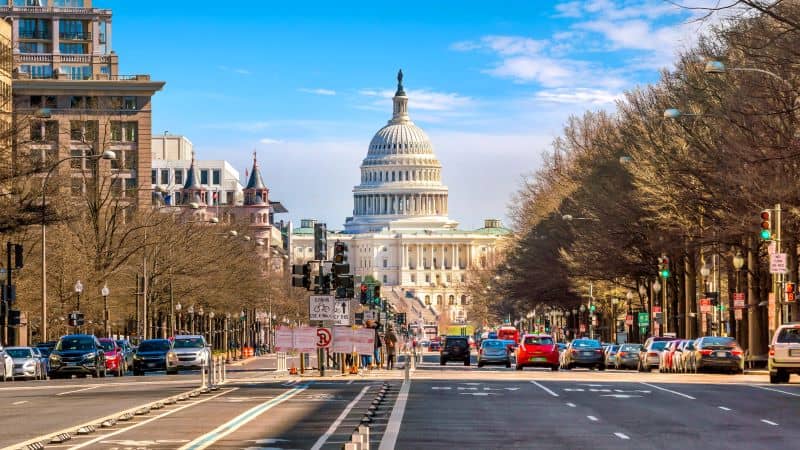 7 Reasons To Consider Washington, DC, for Your Next Travel Nurse Assignment
Images of the White House and Lincoln Memorial likely pop into your mind when you think of the District of Columbia, but the nation's capital is much more than history and politics. A travel nurse assignment in Washington, DC, can be professionally and personally rewarding. You can earn an above-average salary, work at a highly ranked hospital and find plenty of places to explore when your shift is over. Here's why DC should be your next travel nurse destination.
1. Lucrative pay
Registered nurses in Washington, DC, earn an annual mean salary of $92,350 or $44.40 per hour, significantly higher than the national average, according to the Bureau of Labor Statistics.
Travel RNs are also well-compensated. Here are typical hourly wages for travel nurse assignments in Washington, DC, keeping in mind that actual salaries depend on the facility, specialty and your experience:
Medical-surgical nurse: $39.20 to $49.28
Pediatric ICU nurse: $41.95 to $46.23
Cardiovascular OR nurse: $50.00 to $57.50
Perioperative nurse: $43.55 to $57.50
Emergency room nurse: $49.15 to $54.18
Outpatient clinic nurse: $35.68 to $39.32
Find out what a travel nurse assignment in Washington, DC pays for your specialty
2. Quality of life
The District of Columbia is ranked one of the top 20 places to live in the United States by U.S. News, based on the quality of life and desirability. Unemployment and crime rates are consistently lower than the national average.
DC's cost of living is high, with a median monthly rent of $1,600, but travel nurses can offset this expense by taking advantage of free agency housing.
3. Top-notch healthcare
A travel nurse assignment in Washington, DC, lands you in one of the best healthcare systems in the country. DC has the second highest percentage of insured adults in the United States, providing access to healthcare that's fueling a demand for nurses. The city also boasts the most doctors and hospital beds per capita. Overall, DC's healthcare is ranked fourth in the nation based on cost, access and outcomes, according to a WalletHub study.
4. Plentiful assignments and prestigious hospitals
Healthcare and social assistance is one of the top industry employers in the District, offering assignments in all kinds of specialties and settings. Two of the prestigious local hospitals you could work at include:
MedStar Georgetown University Hospital, which is home to a comprehensive cancer center that conducts research and clinical trials. The hospital also ranks highly in transplants, gastroenterology and neurosciences.
Children's National Hospital, rated as the country's sixth best pediatric hospital by U.S News, is highly regarded in newborn intensive care and pediatric specialties such as cancer, nephrology, neurology and neurosurgery, and pulmonary and lung surgery.
5. Endless places to explore
A typical 13-week travel nurse assignment in Washington, DC, gives travel RNs plenty of time to check off key tourist attractions from their list: the White House, Washington Memorial, Lincoln Memorial Reflecting Pool, National Gallery of Art and 20 Smithsonian museums.
You also have time to explore DC's vibrant neighborhoods as a local. Here are a few communities to visit while in town:
Columbia Heights features 19th-century architecture, pretty parks, and lively Hispanic culture.
Shaw District's cool vibe comes from music, shops, and eateries.
Petworth is hopping in the summer with community events including a free music series.
Logan Circle draws locals with its nightlife, shopping, and restaurants.
6. Easy access to nature
When you feel like getting out of the city, nature is a short drive away.
7. Delicious dining
DC is a paradise for foodies, whether you want to sample the tasty offerings in the food hall at Union Market or treat yourself to dinner at a Michelin-starred restaurant. Whatever your preferences, the country's sixth most exciting food city, as chosen by Zagat, has plenty to keep your tastebuds happy.
Are you ready for a travel nurse assignment in Washington, DC? Submit your online application today.