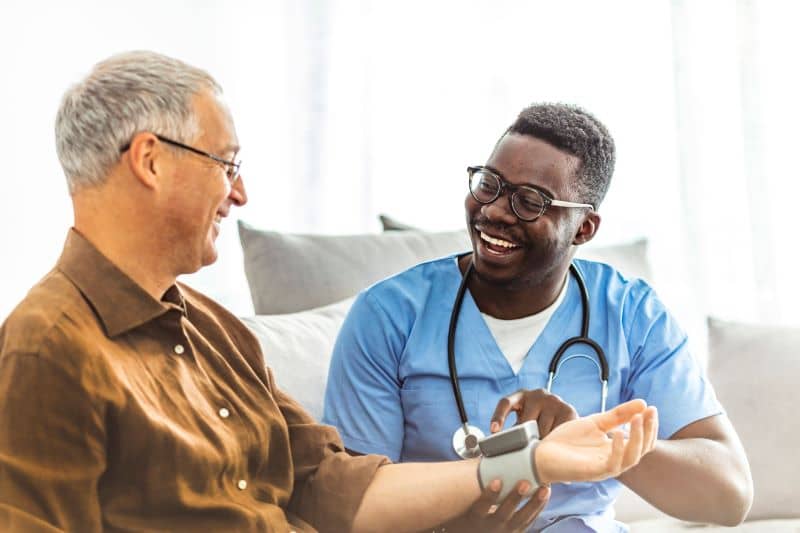 Is Home Health Nursing the Wave of the Future?
The shift in American demographics is carving change into the healthcare field. With the over-65 population set to double in the next 40 years, home health nursing seems like the next thing to boom.
But the growth — of older populations and nursing opportunities — isn't something that's just a concern for future healthcare professionals. People over age 65 already number around 46 million, making home health nursing a potential home for many care providers.
FIND home health nursing jobs today!
Enormous Growth Indicators for Home Health Nursing
The Bureau of Labor Statistics doesn't provide information specifically on home health nursing jobs but does note that, as of 2018, RNs made on average $71,730 per year — an increase of almost $1,730 from the year before. If pay increases aren't enough to convince you that nursing professionals continue to be valued, consider the fact that the BLS marks job growth for RNs at 15 percent through 2026 — a rate that's must faster than the national average for all jobs.
But the indications for growth in nursing are joined by enormous growth indicators for the home health market. According to the BLS, the expected increase in jobs for home health and personal aids through 2026 is a whopping 41 percent. And because these aids work with the same population home health nurses do, it's a safe assumption that RN jobs in the niche are also increasing at a rate higher than they are for other sectors in the medical field.
Coordinating Care and Transitions
It's not just a question for traditional home health nursing jobs, either. President of the American Academy of Ambulatory Care Nursing, M. Elizabeth Greenberg, points to care coordination and transition management as growing fields today and important niches in the future. Nurses working with both home health and in-facility patients in these fields might work in jobs such as care manager, patient care facilitator or care coordinator. In the home health niche, titles might include geriatric care manager.
Among other things, these types of nursing jobs involve working to coordinate various levels of care for patients who are choosing to age in place at home or who are dealing with chronic conditions as they age. Whether you're planning to work in patients' homes, provide specialty coordination care for them or work as part of an extended healthcare team that ensures patients can manage late-life conditions from their home, one thing holds true: You'll need to master certain skills for working with geriatric patients.
Disruptive Care Technologies and Home Health Nursing
John A. Capasso, the EVP of Continuing Care at Trinity Health, notes that the medical industry is embracing and implementing disruptive care technologies, and that is a trend that's likely to continue in the future. Many of these technologies increase the ability for patients to remain home, age in place or return home quicker after an illness or surgery. But they don't remove the need for home health nursing — they actually increase it.
Some disruptive care technologies that are increasing the reliance on home health nurses include:
Equipment that makes it possible for patients and home caregivers to handle many daily care tasks safely; nurses are still needed to handle more technical aspects of care, check in on older patients or help families come up with care plans.
The internet and mobile communication, which make it easier for patients to stay in touch with health providers or ensure vital signs and other information are regularly tracked; nurses are required to manage those communications and data and ensure responses are medically appropriate and timely when needed.
According to Capasso, nurses and other healthcare professionals who work in conjunction with these types of technologies are bridging the gap between reality and the intentions and desires of many people. Now, more than ever, nurses are in a position to support what patients really want, which is often to remain at home as much as possible.