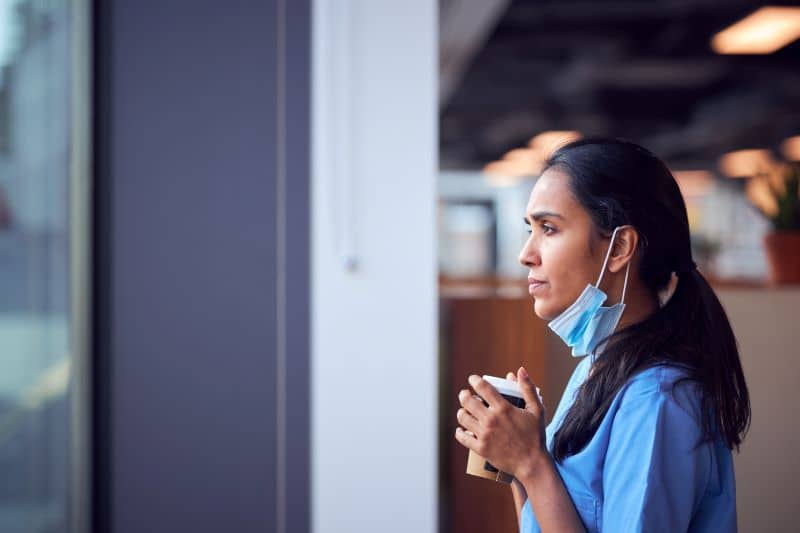 Coping Strategies for Nurses: How To Manage Ongoing Stress During COVID-19
Who's feeling a little stressed out these days?
Six months into the COVID-19 pandemic, a lot of nurses and other healthcare professionals are feeling the strain. Some are feeling stressed from months of intense work in a high-pressure, life-and-death environment. Some are feeling anxious from months of job insecurity, as some hospitals and health systems have struggled to retain staff due to revenue losses.
And everyone's feeling the strain of living through an unprecedented experience like a global pandemic.
In fact, it's normal to have reactions like stress, anxiety or even grief to what the American Psychiatric Nurses Association describes as "increased and persistent stressors and potential trauma." That's why mental health experts are advocating for nurses to develop coping strategies sooner rather than later.
"If you ignore the stresses of this pandemic with the delusional hope that it will somehow end and life will go back to normal, you are on the road to burnout, occupational trauma, an increased risk of physical illness and pain," said Jennifer Love, MD, psychiatrist and addiction medicine specialist with The Amen Clinics and author of the upcoming book When Crisis Strikes.
"Developing a few good stress management techniques is essential to improving your qualify of life, both at work and at play," she noted.
Change your perspective with a travel nursing job from Onward Healthcare.
Recognize your stress
So how does a nurse manage ongoing stress in the midst of COVID-19? First, learn to recognize the signs of stress in yourself. Stress can manifest in different ways in different people, but there are some common signs that you might want to watch for.
The Centers for Disease Control and Prevention lists these signs of stress in healthcare workers as potential red flags:
Irritation, anger or denial
Feelings of anxiety or uncertainty
Helplessness
Lack of motivation
Fatigue
Feeling burned out
Depression
Trouble sleeping
Trouble focusing or concentrating
Monitor yourself regularly to see if you're experiencing any of these signs and if they're getting worse. Don't brush them off.
Give yourself permission to prioritize your needs
Karrie Brazaski, RN, BSN, MS, CTNC, founder of a nonprofit called Helping Healthcare Heroes, emphasizes that unaddressed stress can lead to burnout. Burnout is already a well-documented problem for nurses, even before the COVID-19 pandemic.
"Nurses are all about taking care of everyone else. They need to start making self-care a priority for themselves," she said. "The first step is changing the mindset that taking care of yourself is selfish; it is not. It is imperative for longevity in this career."
Start by assessing yourself with the acronym known as HALT. Are you:
Hungry,
Angry,
Lonely or
Tired?
If you are, address those concerns first, said Tonya Hansel, Ph.D., associate professor of social work at Tulane University whose expertise is in disaster mental health.
Then you can work on developing some more long-term coping strategies and skills.
Determine stress management strategies that will work for you
It's important to find coping strategies that work for you. And what works for you may be different than what works for someone else, noted Brazaski.
Start by trying out any of the stress management practices that have worked for you in the past, suggested Hansel.
"If they have been helpful in the past, they are likely to work again," she said.
Embracing self-care measures can go a long way toward helping you manage ongoing stress, even during COVID-19. You can start with what Hansel calls "small acts of relaxation, such as deep breathing, a short walk, meditation, prayer, or calling a friend."
Travel nurses need to be especially vigilant about self-care when they're away from home because they are separated from their usual support networks. Travelers may need to try some different methods, but can find ways to mitigate stress when on the road.
If you're traveling, make an effort to stay connected to friends and family daily, whether using social media and video sharing apps or a simple phone call. And find ways to incorporate some exercise into your day.
It's also important to stick with coping strategies that actually help you, said Divya Kannan, PhD, lead psychologist with Cure.fit.
"Active coping strategies are more effective than passive ones," says Kannan. "Examples of passive coping may be excessive sleeping, relying on food or alcohol to feel better, or avoid confronting things that may be bothering you. These behaviors may help us feel some relief for a temporary period of time, e.g. dealing with sadness through binge eating, but don't allow us to directly deal with the problem at hand if we rely on them as a primary means of coping."
Accept the unknown and ask for help
One of the hardest parts of the current situation is the unknown factor. Not knowing when the COVID-19 pandemic will end can definitely exacerbate your stress levels.
"Once you start relaxing, release your expectations and accept the reality that we just don't know how long this pandemic will be around," said Love. "Avoid setting an end date in your mind…think about how to live with it and to live well."
Even with your best efforts, you may not be able to fully manage your stress all by yourself. There is no shame in asking for help. You can contact your employer's employee assistance program (EAP) for help, or you may want to seek out a counselor to discuss your issues.
If you are a traveler working for Onward Healthcare, contact your recruiter to learn more about the company's wellness program, which includes a mental health component.
Related:
Tired of Social Distancing? Fun Websites and Apps to Stay Connected
7 Nurse Stress Management Techniques That Work
ONWARD HEALTHCARE has thousands of travel nursing jobs around the U.S., complete with free housing, paid travel expenses, health insurance and other perks
SEARCH TRAVEL RN JOBS or APPLY TODAY to start working with a recruiter.