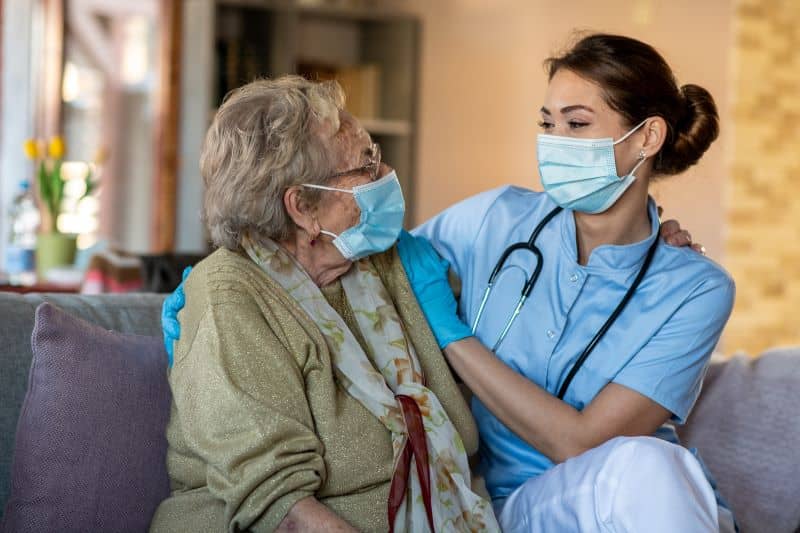 How To Reassure Patients Amid New COVID-19 Realities
The battle against COVID-19 has completely transformed the world's healthcare delivery model, with new safety precautions, protocols and prioritization of cases. And the battle is far from over. Fear of catching the virus has also caused many patients to delay medical care for non-coronavirus issues, which experts note will lead to more acute health problems down the road.
Nurses and physicians have the ability to put patients at ease by explaining new protocols and safety measures in all healthcare settings, including primary care and hospitals. Using effective communication, they can ensure patients feel comfortable to seek the medical care they need and follow through on treatment plans during the global pandemic.
Whether it is providing guidance on safety protocols such as using face masks and disinfecting techniques, or just simply reassuring a patient that we will all get through this, providers can find ways to build patient trust and ultimately achieve the best outcomes.
FIND your next nursing job with Onward Healthcare.
Communication and validation are key

Patients need extra attention during times like these, and there are many ways to reassure patients of their safety during COVID-19.
Organizations such as the Centers for Disease Control and Prevention (CDC) and Health Resources & Services Administration (HRSA) have a variety of resources, toolkits, videos and more that nurses and physicians can leverage to enhance their patient communication.
For example, for patients who are unsure or resistant about the cloth face covering guidelines, providers can refer to the scientific resources and data provided by these organizations to help quell any issues with wearing a mask.
The CDC's resource page for healthcare facilities operating during the COVID-19 pandemic explains that facilities should place visual alerts, such as signs and posters in appropriate languages, at entrances and in strategic places providing instructions on hand hygiene, respiratory hygiene (including the use of cloth face coverings), and cough etiquette. Their Stop the Spread of Germs poster is a useful tool that healthcare providers can easily print and display at all entrances and patient check-in locations.

"I don't think there is such a thing as over-communicating safety at this point," said Matt Eventoff, communication and messaging strategist, founder of The Oratory Project and owner of Princeton Public Speaking.

Another pillar to reassuring patients during COVID-19 outbreaks is the concept of active listening and ensuring that each and every one of your patients feels heard.
Fact vs. fiction

In a world that relies on WebMD and other online medical symptom aggregators, nurses and physicians have more of a duty than ever to help their patients distill fact from fiction. The list of coronavirus symptoms has been evolving over the last few months as more data becomes available. The frequent changes, however, are causing anxiety among many patients.
"It is essential that providers hear their patients and treat each one as an individual," Eventoff explained. "They are not masses. We have been overrun by statistics and many of them are conflicting. Everyone is coming in to their healthcare providers with a heightened level of anxiety."
Most patients have read information and seen the daily headlines about tens of thousands of people dying, and the frightening symptoms for survivors. Healthcare providers can validate their research while also ensuring the patient has the correct information at hand.

Validation of your patient creates an environment of reassurance, Eventoff continued. "It's not about validating what they read on WebMD is true. Instead, it's validating that it's okay that they researched their symptoms on the internet."

Lean in to empathy
Nurses have long been recognized as one of the most trusted professions, including 18 straight years atop the annual Gallup polls. They are also among the most empathetic and compassionate healthcare providers, and the ones who generally spend the most time with patients.
A little empathy goes a long way to reassure patients during COVID-19, helping them feel like their worries and concerns during these difficult times are normal.

"I think nurses show unbelievable empathy every day, in every situation," Eventoff said. "And I think now, more than ever, nurses need to double and triple and quadruple down on empathy. Because people are scared, they are nervous, the information is unclear and people are looking to be reassured."
"A patient that walks in anxious has an effect on everyone working there—not just the doctors and not just the nurses. And I think anything that we can do to alleviate some of that angst is just very, very valuable," he concluded.
Related:
The Top 5 Nursing Values and How to Apply Them
ONWARD HEALTHCARE is seeking talented, compassionate nurses for travel nursing assignments across the U.S. APPLY NOW to connect with one of our friendly recruiters!