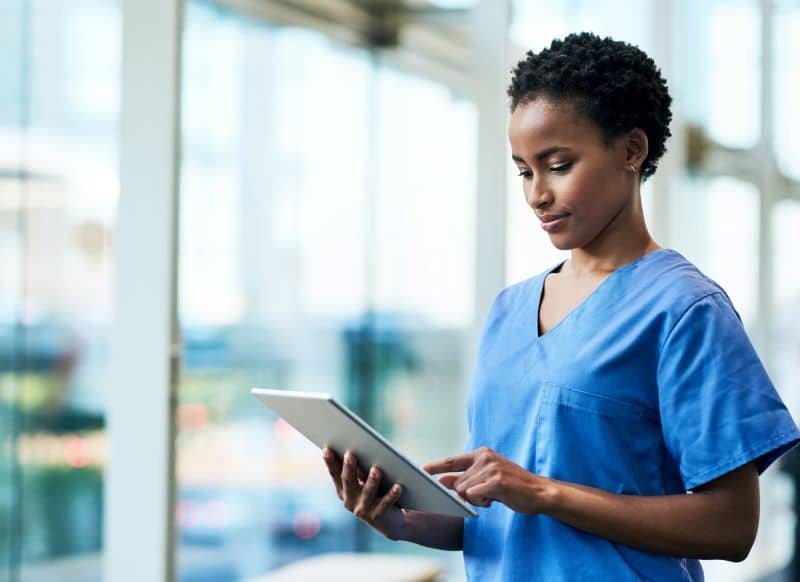 What Is an Informatics Nurse, and Do You Want To Be One?
What is an Informatics Nurse?
Because this is an emerging field in nursing, the definition for an informatics nurse varies, but according to the Healthcare Information and Management Systems Society (HIMSS), nursing informatics is "the specialty that integrates nursing science with multiple information and analytical sciences to identify, define, manage and communicate data, information, knowledge and wisdom in nursing practice."
Nikola Djordjevic, MD with MedAlertHelp.org, further explains that nursing informatics is "a field of work which combines nursing science with information technology and analytics to identify and manage data in nursing practice to elevate the efficiency of nurses and patient care."
An informatics nurse supports everyone from the patients to the nurses and beyond by helping them achieve their desired outcomes with the use of information technology, structures and processes. Nurses seeking a unique career path who have an interest in information technology could find nursing informatics to be an ideal fit.
Take your nursing career to the next level with travel nursing jobs at Onward Healthcare that let you learn about informatics.
What Do Nurse Informatics Do?
Informatics nurses can work in a variety of settings, so the role of a nurse informatic varies based on where they work and what the facility needs in the form of information. Some tasks you might perform include:
Assess and analyze healthcare technology needs
Design, test, and implement technology
Train staff
Troubleshoot
Assist in transitioning from one system's technology to another
Help ensure organizations meet federal healthcare laws
Develop organizational policies and standards
Serve as an educator to staff and new nurses
Sandy Griffin, LPN, CHPLN and Quality Assurance Coordinator at Hospice of South Louisiana, adds that among the many things informatics nurses do are "help to research and organize medical information, help implement new technologies in hospitals and other healthcare facilities and teach healthcare and IT staff how to use new systems and technology."
Dr. Djordjevic also adds that "nurse informatics is working toward meeting the goal of better management of information in their field. Ultimately, they want to boost efficiency, take patient care to another level, and cut costs where possible."
Why be an Informatics Nurse?
"If you're interested in being the link between healthcare professionals and IT specialists," says Griffin, "informatics nursing may be the route for you. They make upwards of $80,000 per year. To qualify, you must have your Bachelor of Science in Nursing (BSN), your Master of Nursing (MSN), board licensing, and IT certification."
USF Health Online states the full salary potential of a nursing informatics specialist varies based on several factors, including your education, where you work, what type of healthcare facility it is, and the exact scope of the work you do. However, according to the 2014 HIMSS Nursing Informatics Workforce Survey, the average salary was $100,717.
"You can find informatics nurses in hospitals, consulting firms, universities, and corporations," Djordjevic adds. "If you love helping people and you're a data person, this is the way to go. Besides, with technology developing at the speed of light, you won't have to worry your profession will become obsolete any time soon."
Why is Nursing Informatics So Important?
Communication is indisputably one of the most important aspects of patient safety. To get a complete picture of a patient's clinical status, healthcare professionals must be able to access the patient's medical history, lab and imaging results, and medication lists as well as notes from attending physicians and other members of the medical team. Armed with this information, nurses and other healthcare staff can make informed decisions that greatly improve patient outcomes. Nursing informatics is important because it contributes to the development and improvement of technology like electronic medical records to reduce medical errors and healthcare costs all while increasing patient care and improving outcomes.
Paper records will soon be obsolete, which makes professionals who specialize in electronic data highly prized in the healthcare field. Although the field of nursing informatics is just emerging, it's a great time to take the leap as jobs are becoming more abundant and the career field is rapidly expanding.