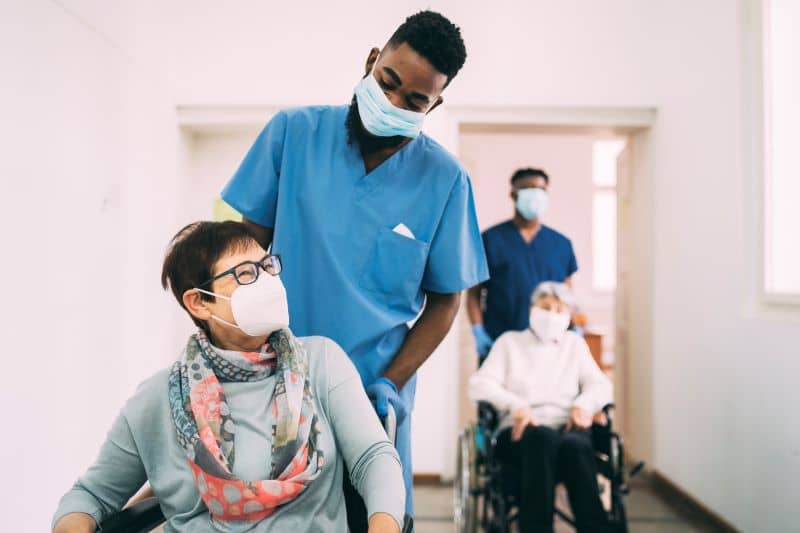 Community Engagement: Stories of Nurses Going Above and Beyond
While the nation's nurses have been fearlessly serving on the front lines of a global pandemic for well over a year, there are many stories of nurses who have stepped up to do even more. These caregivers are getting involved in their communities by selflessly volunteering for local initiatives and projects.
This type of community engagement is the focus of the fourth week of National Nurses Month in May when nurses are encouraged to explore ways that they can give back to their communities. Here are three stories of nurses who are doing just that—volunteering their time, skills and resources to make the world a better place.
Community Engagement Stories From Nurses During COVID
1. Volunteer Nurses Spearheading Vaccination Efforts
Vaccination efforts are at the forefront of everyone's mind as the country begins to open back up, and a group of nurses in California is volunteering their time to help administer an expected 100,000 vaccines throughout Los Angeles County during the month of May.
This initiative has been made possible by the Registered Nurse Response Network (RNRN) in partnership with International Medical Corps. By mid-May, 10 teams of nurses had been deployed to administer vaccines throughout this underserved area of Southern California.
"We nurses are on the front lines and we see the devastation of what COVID has done to communities," said Sandy Reding, RN, at Bakersfield Memorial Hospital and a president of California Nurses Association in a recent press release. "I volunteered for the vaccine clinic because I feel that it is my duty to reach underserved areas that have been disproportionately affected by COVID. We must stop the spread."
RNRN is a nonprofit project of National Nurses United (NNU) and the California Nurses Foundation. The group coordinates sending volunteer RNs to disaster-stricken areas where and when they are needed.
2. Nurses Crushing COVID
Lori Mahler, a retired nurse from Fayetteville, Arkansas, started a volunteer group she named "Nurses Crushing COVID" to help out during the pandemic; the group was recently profiled on 40/29 News. Now, the 60-person volunteer staff helps with mass vaccination clinics throughout the state of Arkansas. The group is made up of healthcare retirees as well as actively-practicing nurses and physicians.
Anyone interested in joining the group can reach out to Mahler on the group's Facebook page.
3. Retired Nurses Answer the Call for Help
If you are a nurse who has recently retired, chances are your skills and experience are still needed somewhere. This held true for several nurses who were featured in a recent NBC News article about nurses are coming out of retirement to administer vaccines.
The article noted that states including Florida, New York, and Maryland have all begun to deploy retired healthcare professionals to assist with vaccination efforts. Nurses are answering the call and many are postponing retirement plans to come back and get people vaccinated.
More Ways Nurses Can Get Involved in Their Communities
Beyond helping with vaccination efforts, nurses can organize or participate in fundraisers, volunteer at community clinics, mentor nursing students, advocate for a nurse or patient safety, give presentations at schools, or work with other volunteer organizations. In fact, there are a plethora of ways that nurses can use their hard-earned skills and experience to make an impact at the community level.
Regardless of your specialty or area of expertise, the world is in need of a little extra help these days. If you are unsure where to start, look at your own hospital or workplace. Talk to your manager or other leaders to see what volunteer opportunities may be available to you. If you are interested in working with the student population, reach out to your local nursing school to find out how you can get involved.
The American Nurses Association is also a good place to seek volunteering opportunities, including with local chapters. The American Nurses Credentialing Center also lists current open volunteer opportunities for nurses according to specialty.
Get Involved as a Travel Nurse
Do you want to work where the need is greatest? Travel nursing assignments are available across the country, including facilities that are short-staffed due to COVID or other situations.
But no matter where you are working as a travel nurse, you can get involved with volunteer efforts while on assignment. Here are just a few ideas of major organizations that are often in need of qualified nurse volunteers:
American Red Cross
California Health Corps
Volunteer Match
Mercy Ships
Health Volunteers Overseas
Connect with an Onward Healthcare recruiter to learn more about travel nurse assignments!