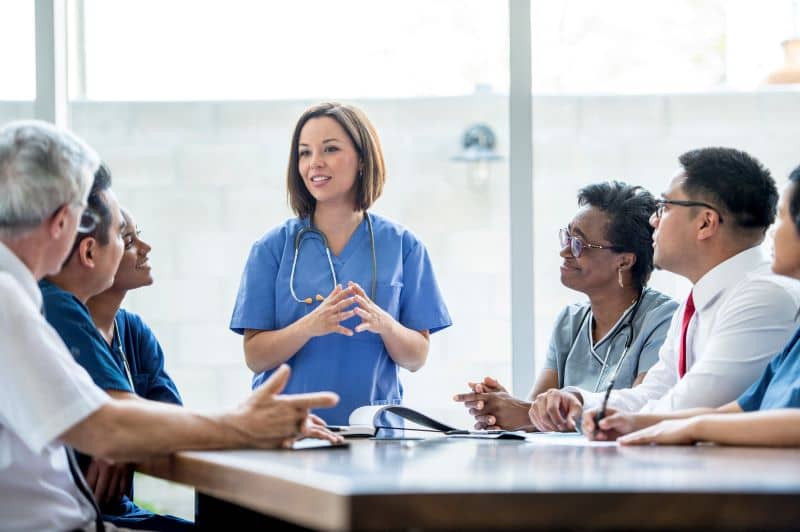 Nursing Job Satisfaction: How To Choose a Nursing Job You Love
What's the key to nursing job satisfaction? According to the Bureau of Labor Statistics, nurses make on average $33.65 an hour, and the job outlook is fantastic.
But if you land the wrong type of position right out of the gate, it can tank your nursing job satisfaction.
With so many options for qualified nurses, it can be daunting to find a nursing job you love. Check out some tips below for ensuring nurse job satisfaction.
3 Tips and Tricks for Nurse Job Satisfaction
1. Choose a Job That Aligns with Your Nursing Career Goals
In a commencement address now famous among the liberal arts set, author Neil Gaiman gives several pieces of advice that would be relevant to anyone starting out in any career.
One thing he says is that in his career as a writer, he set a goal before himself and imagined success with it as a mountain.
When career options were presented before him, he asked himself: did taking this step move him closer to or away from the mountain?
One key to nursing job satisfaction is selecting work that moves you closer to your "mountain", whatever your nursing goal might be.
2. Get Personal About Your Nurse Job Satisfaction
You know what your strengths, weaknesses and preferences are, and you should let them inform your nursing career choices, at least to some degree.
Yes, you can always work on new nursing skills to grow your career, but if you're not into children at all, a job in pediatrics may not be the best choice for nursing job satisfaction.
Kris Hughes, RN, says nurses job satisfaction often means doing work that is personally rewarding.
"Nurses shouldn't feel selfish for wanting something more than a paycheck out of their jobs," she says. "We start nursing because we care about patients, and when you're doing work you care about too, that's easier to do long term."
Hughes also says that nurses should consider specific employer policies too, not just the type of nursing work they'll be doing. "Someone with little kids may not be happy working a late shift, so job satisfaction for them isn't high when they have to."
3. Consider Common Nurse Job Satisfaction Factors
A study including 95,000 nurses found that certain factors contributed to job satisfaction — or lack of it — among nurses more than others.
Some factors that may drive nursing job satisfaction up or down include:
Demands of direct patient care
Work schedules
Lack of autonomy
Healthcare benefits
Retirement benefits
Salary
Opportunity to advance (or lack thereof)
Knowing your own preferences for all of these areas can help you narrow your job search to the most appropriate employers.
Saying yes to the right RN job can help you maintain nursing job satisfaction long term.