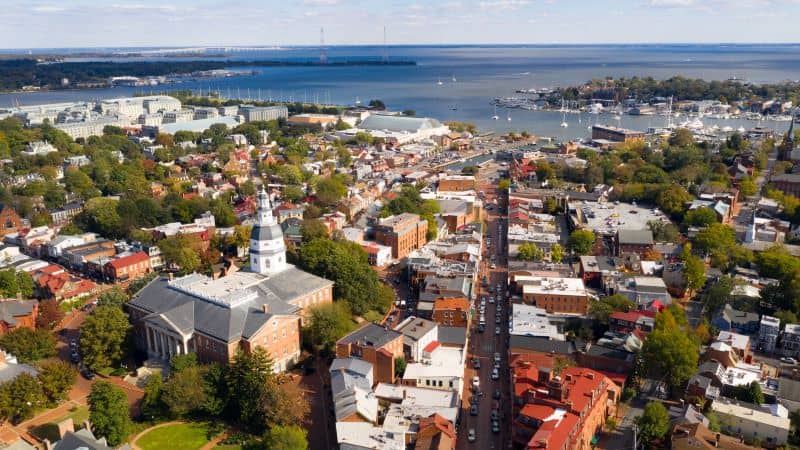 Nursing Jobs in Maryland: Dueling Shores & Sights To Behold
Looking for a nursing job in Maryland, and not sure where to look?
Here's what you need to know: it's Eastern Shore versus Western Shore.
"These two parts of the state, separated by the Chesapeake Bay and its $4 bridge toll, may as well be galaxies apart," writes well-known author and Eastern Shore resident Mary McCarthy, who has lived on both shores over the last 25 years.
The differences in history, politics, attitudes, language and accent are acute, McCarthy writes.
Depending on where your Maryland nursing job takes you, you could have a very different experience than other nurses working in the state.
Steve Dolbey, a native who grew up on the Eastern Shore, agrees.
"It could be its own state," he says, "but really the whole state is fun. They call it Little America because it has the ocean on the east, rolling hills and rivers and lakes in the middle, and mountains in the west. It's very beautiful in the spring and fall."
Mountains in Maryland?
"They aren't the Rockies," explains M.K. Bunting, a native Marylander who was raised on the Eastern Shore and now lives in Eldersburg, about 20 miles northwest of Baltimore. "They are very old – part of the Appalachians. The Appalachian Trail goes through and you can hike any time of the year."
Living in Maryland is mostly about being on the water, says Dolbey, who has spent many days sailing the Chesapeake Bay. "The whole place is driven by water." Travel nurses with short-term RN jobs in Maryland won't have far to go to experience this water sports haven.
It's also all about the crab cakes, adds Bunting.
"We have the best crab cakes in the world," she opines, "and you can never get enough of Old Bay" – the famous concoction of herbs and spices that residents put on everything.
Nurse Jobs in Maryland: Top Places to See on Your Days Off
Whether you are a permanent resident or in the state for just a few weeks on a travel nursing job, here are some of the top attractions to visit during your nursing job in Maryland:
Annapolis
This city is both the state capital and home to the United States Naval Academy. Its art district is popular for the First Sunday Arts Festival, held May through November. RNs with nursing jobs in Maryland should check out the popular trolley tours, historic walking tours, and cruises on the bay.
Baltimore
Not part of any county, independent Baltimore has more than 65,000 buildings listed on the National Register and a heap of historical destinations. Among them:
The USS Constellation, the last sail-only ship designed and built by the Navy;
The star-shaped Fort McHenry National Monument and Historic Shrine, known for its defense of Baltimore during the War of 1812 and the inspiration for the "Star Spangled Banner;"
The award-winning National Aquarium in happening Inner Harbor.
This beautiful, bustling city also offers the most nursing jobs in Maryland, including opportunities at Johns Hopkins and other prestigious hospitals.
The Haunts of Harriet Tubman
Those with Maryland nursing jobs have the opportunity to learn about another nurse – Harriet Tubman – a diminutive but exceedingly strong black woman and Civil War nurse.
She also served as a heroic Underground Railroad guide and left her mark throughout the Chesapeake Bay and Eastern Shore region. Visit the new Harriet Tubman Underground Railroad Visitor Center in Church Creek to learn about her life and legacy.
Assateague Island National Seashore
This 37-mile-long barrier island is home to "wild horses," actually descendants of domestic animals that have reverted to a wild state, according to the National Park Service. There is camping, hiking, biking, canoeing, and kayaking.
Ridgely
Visit dog-friendly Adkins Arboretum (guided dog walks every Thursday), 400 acres containing 600 species of shrubs, trees, wildflowers, and grasses native to the Mid-Atlantic coastal plain.
Take a self-guided walk/bike on the five miles of trails, and if you have a nursing job in Maryland in the winter, bring your cross-country skis.
Salisbury
Those with RN jobs in Maryland can visit this historic city that offers both the old and new, the odd and mainstream.
The Newtown Historic District has 240 Queen Anne, Classical, English Cottage, Greek and Colonial Revival homes built between 1865 and 1930 (of special note: the beautifully restored Poplar Hill Mansion).
The Ward Museum of Wildfowl Art pays homage to Lem and Steve Ward, known as accomplished carvers in duck decoy circles. Pemberton Historical Park offers 262 acres of nature and wildlife, including Pemberton Hall, a 1741 plantation.
And the popular Evolution Craft Brewing And Public House pairs new beers with fresh bay oysters.
Washington, D.C.
No, our nation's capital is not in Maryland, but it is less than 40 miles from Baltimore, and even closer to medical centers in Clinton and other Maryland communities. So, if you are assigned to a nursing job in Maryland, take advantage of your chance to see it.
Nurse Licenses In Maryland
Maryland is part of the Nurse Licensure Compact, which makes it easy for nurses who hold a multistate license from another compact state to take Maryland nursing jobs. If you don't currently hold a multistate license, our recruiters can help you get started with your RN license application and get you placed in a job.
FIND travel nursing jobs in Maryland with Onward Healthcare.