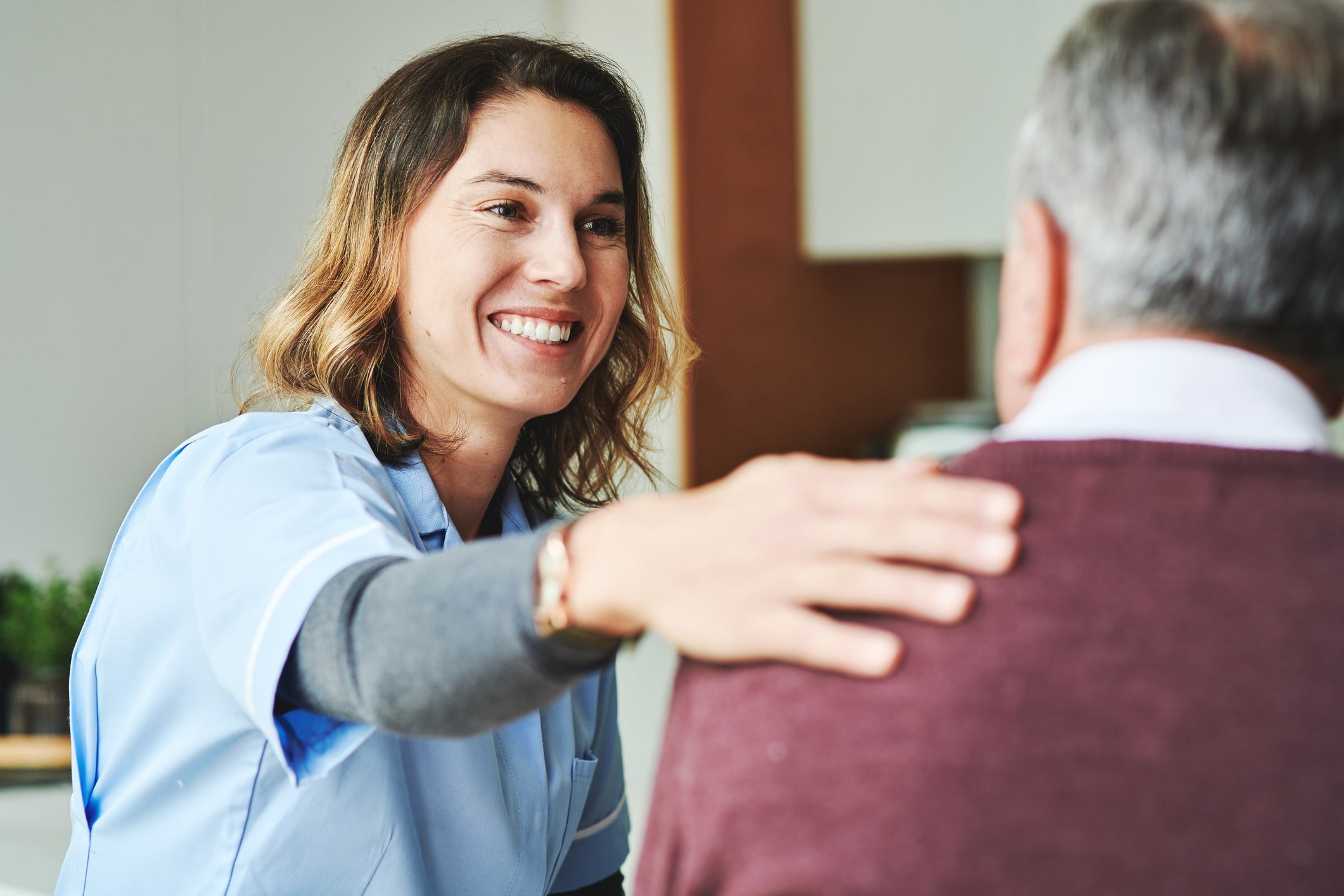 Travel Nurse Passionate About Patient Care
Onward Healthcare travel nurse Kenny Hancock, BSN, exemplifies what it means to be a nurse--outstanding service, commitment to excellence, dedication to educating patients about living a healthier lifestyle and a passion for patient care.
Kenny's passion and dedication have not gone unrecognized. This week, Kenny was awarded the AMN Healthcare Commitment to Excellence Award for Passion. Let's take a look at Kenny's nomination and see firsthand how his passion has tremendously impacted others in the field.
"Kenneth embodies what it means to have a passion for nursing. From the moment I met him he has mentored me in my career. When I was unsure about nursing, he talked me through all the good and the bad and reminded me it was worth it. When I was deep in the heart of nursing school overwhelmed by it all, he created a mentor program at our university so that new students would have an experienced graduate to help them along the way. When I was a new graduate, he gave me all his expertise and encouraged me to volunteer and reminded me it was worth it.
Now that I'm a seasoned nurse I've not lost my desire for his mentorship. As my life changes, so too may my career choices. Kenny is always there to share his nursing experiences in a bold and truthful way that allows me to have a greater insight to what this career is all about. He reminds me that it is worth it. Kenny is passionate about caring for others. This shows not only in his professional life but also in his personal life as he mentors other nurses or hikes for charity in his free time. It is for all these reasons that with pleasure I nominate Kenny for the Commitment to Excellence Award."
To say that Kenny is passionate about nursing, healthcare, training, and educating others is an understatement. While attending the Thomas Jefferson University School of Nursing in Philadelphia, and getting his B.S.N in 13 months, Kenny volunteered with the Red Cross. He was part of the Disaster Action Team (DAT), which responds to local residential emergencies and disasters, such as fires. Kenny was trained in how to administer to the needs of disaster victims, including setting up temporary emergency shelter (housing), debit cards for food, clothing, and medication, and much more. When his phone rang, day or night, Kenny responded immediately and was on the frontlines to help victims of disaster faced with a highly emotional and devastating situation.
Congratulations again to RN Kenny Hancock on winning the Commitment to Excellence Award for Passion!
In addition to volunteering on the Red Cross DAT, Kenny served on the Red Cross Disaster Health Services Board. As a volunteer, Kenny assessed the conditions and needs for the replacement of medications at times of disasters. When Kenny takes his next travel nursing assignment in Washington D.C., he looks forward to volunteering again with the Red Cross DAT and the Disaster Health Services Board.
One of Kenny's true passions is his dedication and commitment to educating and training others, including patients, nurses, and staff. Kenny is currently on assignment in a Cardiac Stepdown (Cardiac Intermediate Care) unit. In this unit, patients are coming out of the Cardiac Intensive Care Unit (ICU), and this is the 'last stop' before they can go home. In addition to seeing people heal and go home with a new outlook on life, Kenny goes above and beyond--taking the extra time to educate patients on how to live healthier lives and stay well after leaving the hospital. "Patients are very receptive and thankful for the literature and information I have provided them with," he says. "I provide them with a lot of information to educate them so that when they leave the hospital, they are ready and able to live a healthier lifestyle with their support system at home."
Some of the incredible feedback Kenny has received from patients included:
• "Nobody else has taken the time to do what you've done for me."
• "You really made an impact."
• "I really learned a lot."
• "Thank you for helping me to help myself."
In Asheville, North Carolina, Kenny worked in a Long-Term Acute Care Hospital (LTACH). He was asked to be a preceptor-mentor and train new nurses and staff: "I provide a hands-on learning environment, where I teach others how to interact with patients, how to turn/move patients, bedside care, charting procedures, hospital policies, and more. I focus a lot on skill-building and patient care." Others quickly appreciated his passion for educating and training others, as they often complimented Kenny on his fantastic learning style and how thorough he was: "Nurses would always tell me that I should be in nursing educating and clinical instruction."
Thank you again, Kenny, for all you do and for your commitment to excellence! Congratulations again on winning the Commitment to Excellence Award for Passion!
Interested in travel nursing? Search travel nursing jobs in your specialty!