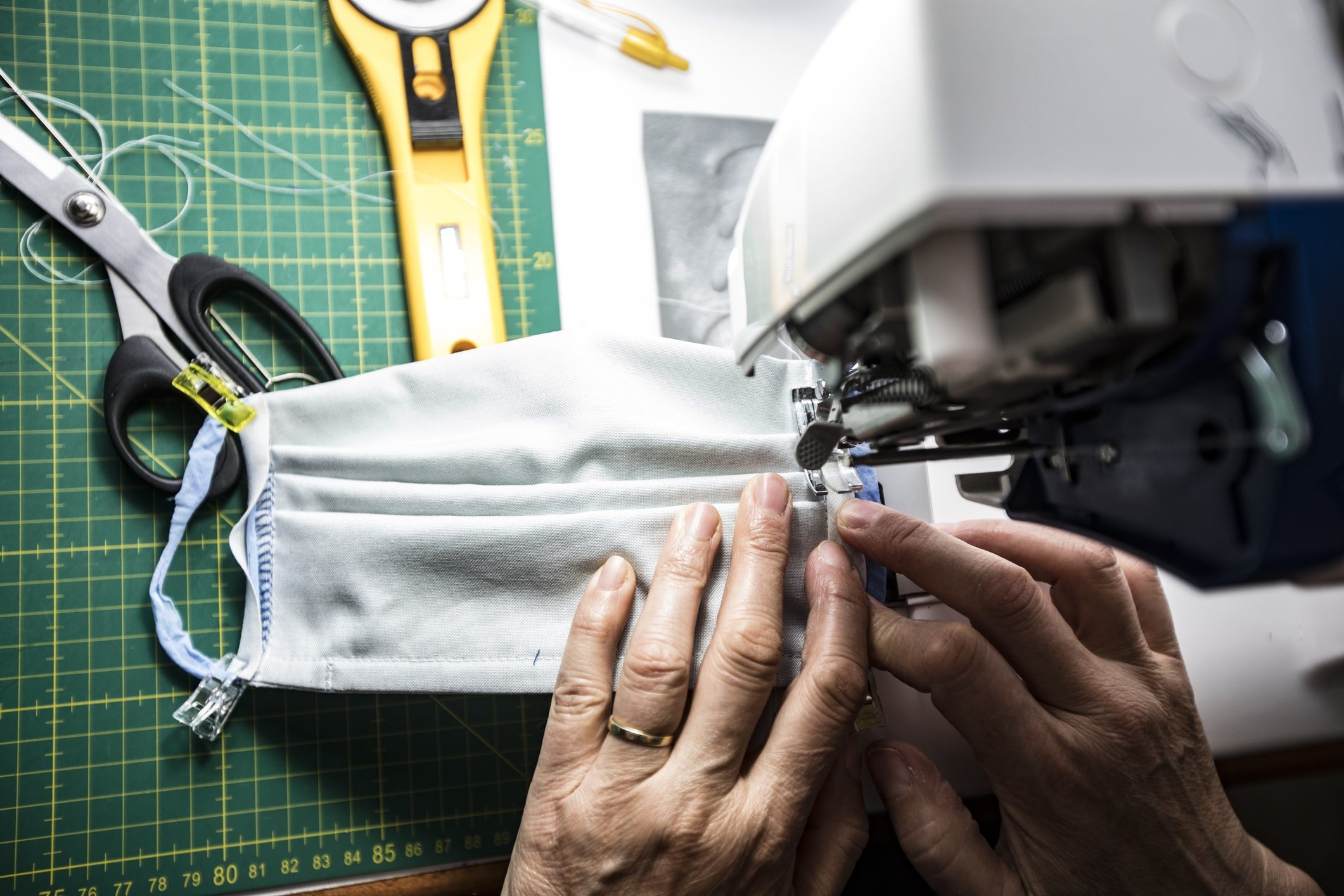 Volunteers Making Face Masks For Healthcare Workers
All over the country, volunteers are rallying to make face masks and donate them to help healthcare workers during the coronavirus pandemic.
In Nashville, Tennessee, registered nurses Nicole Nickle and Mary West are coordinating a drive to gather up masks, including homemade cloth masks, and other supplies to donate to local hospitals and clinics.
In Suwanee, Georgia, Jessica Mercon's 11-year-old daughter Delaney is sewing masks and blankets to donate to medical workers.
In Oak Park, Illinois, jewelry designer Dima Ali put herself to work, sewing masks and recruiting others via Facebook to make masks, too.
"This is a time of crisis, and we should come together," said Ali, who has already sewn more than 60 masks since she started. "I just wanted to be of service."
Shortages Of PPE Spur Action
As the number of coronavirus cases in the United States rose sharply during the month of March and into early April, the shortage of personal protective equipment (PPE) for healthcare workers became widely discussed and debated.
While governmental efforts ramped up to improve the supply chain, many group and individual initiatives were launched to source PPE and get them into the hands of the medical professionals who need them. For example, Project N95 has established itself as a national clearinghouse for PPE, fielding requests for N95 respirators, gloves, face shields and gowns from more than 2,500 facilities.
In another example of innovation and collaboration, the team at the University of Kansas Center for Design Research released an open-source design for a plastic face shield that anyone can download to make shields with commonly available materials.
In addition, legions of individuals sprang into action from their own homes, sewing homemade face masks.
Volunteer efforts like those of Nickle, West, Ali and Mercon tend to be focused around sewing masks and donating them to local medical facilities, where the doctors, nurses and patients might even be their neighbors.
"I feel a strong need and desire to protect those who are out on the front lines, trying to protect us," said Nickle. "Even though I'm not out there working, I'm going to be working at home, however I can, to protect them. Because those are my people."
Sewing Face Masks And N95 Covers
Lisa Bell is one of Nickle and West's volunteers, sewing facial masks and covers for N95 respirators from her home. She already knew how to sew, so when she found out there was a need, she was more than ready to fire up her sewing machine.
"I really wanted to help in any way I could," she said. "Being at home and self-isolating can make a gal feel a little helpless so I decided to put my skillset to a good use."
Over a two-week period, Bell was able to produce at least 300 pleated-style fabric masks and 100 fabric covers for N95 masks, which she has donated to hospitals and nursing homes in the greater Nashville area. She is not planning on stopping anytime soon.
Though still a beginner when it comes to sewing, 11-year-old Delaney Mercon is rapidly gaining experience as she and her mom have created at least 25 masks (and counting) from the supplies they had on hand or received as donations from neighbors.
"It is important to us because it is important for doctors to have the right protection and if they don't, they have the risk of the virus," she said.
School Of Nursing Request For Masks Goes Viral
Susan Dorsey, PhD, MS, RN, sent an email out to her fellow faculty, as well as staff and students, at the University of Maryland School of Nursing (UMSON), asking if anyone could sew masks. The email included links to instructions for sewing a mask. She expected a handful of responses at most.
The email got forwarded to people outside the school of nursing, as well, and it clearly struck a chord, as piles of fitted and flat masks poured in.
"I have been absolutely blown away by the incredible giveback from the community," she said.
Within a week, Dorsey was able to deliver more than 600 cloth masks to the nearby University of Maryland Medical Center. Within an hour of her delivery, nurse managers had grabbed them all up for their team members. Dorsey continued to receive donations, so she could replenish the stash.
"We're basically delivering twice weekly right now, but that could pick up as we get more," Dorsey said.
Dorsey noted that the medical center is not using the masks for healthcare providers when providing direct medical care. But they are handing them out to people not providing direct patient care or who do not need medical-grade PPE but would like some protection, as well as to patients and their families when they leave the hospital.
Want To Help? Ask Local Facilities which Supplies They Need
Do you know someone who wants to help? There's plenty of need, regardless of skill level.
"Anything helps," said Bell. "If you can't sew, perhaps consider supporting your local seamstress by ordering her 1/8" elastic, new 100 percent cotton, tight-weave fabric, or 100 percent cotton thread."
Potential donors are urged to check with local hospitals and clinics to see what kind of donations they're accepting. The policies and requirements vary from facility to facility. Some hospitals and health systems, such as Sharp Healthcare in San Diego, are not accepting homemade masks but will accept other protective supplies. Other facilities will accept a wider array of donations.
Deaconess Health System in the Midwest provides full instructions and a "how to" video for making masks on their website, as well as a matching service for donors and facilities seeking masks.
The Deaconess website points out, "While fabric masks are not to be used in the care of COVID-19 patients, according to the CDC, fabric masks are a crisis response option when other supplies have been exhausted. Fabric masks can also be helpful in other areas of patient care as supplies of PPE are depleted."
Not sure about what your local hospital or medical facility will take? Start with their website, where many are posting their policies and requirements.
Another option is to use social media to connect with people in your community who are making and donating masks. Countless Facebook groups have sprung up to organize donations, and many of the coordinators will have additional information on patterns to use and other requests from local hospitals and facilities.
Resources
University of Maryland Medical System: Make Face Masks to Donate
Deaconess Health System: How to Make a Face Mask
CDC: Use of Cloth Face Coverings to Help Slow the Spread of COVID-19 (For general use)
The University of Kansas Center for Design Research