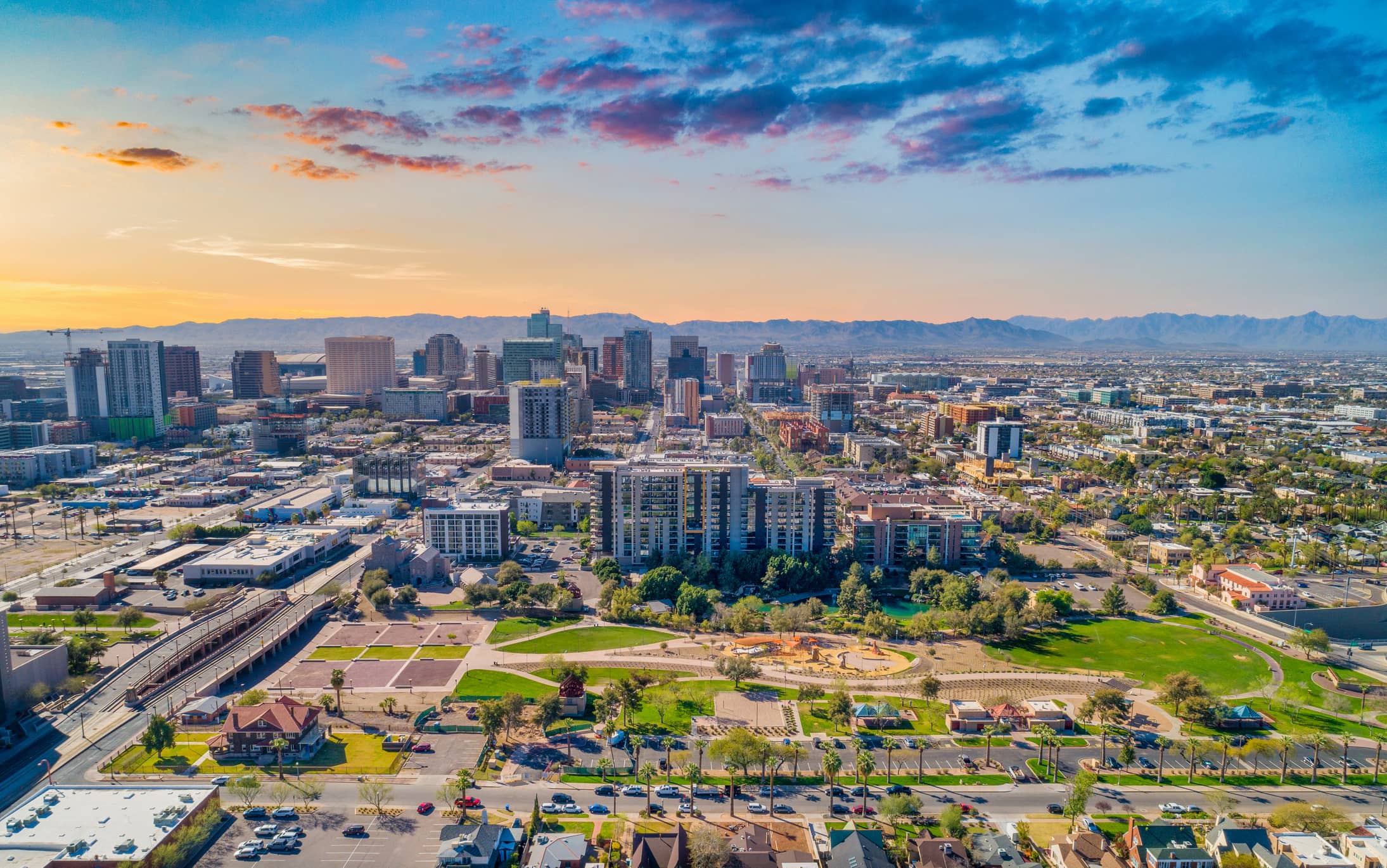 10 Must-see Cities for Travel Nurses
What's on your travel bucket list? From the sprawling coastal towns of California to the charming villages found throughout New England, America is rich with amazing cities for travel nurses that are just waiting to be discovered.
Whether you are just starting out as a travel nurse or are a seasoned professional with several assignments under your belt, recruiters often suggest making a list of top cities you'd like to visit as a mobile healthcare professional.
To help you get started, the team at Onward Healthcare has compiled a list of 10 must-see cities for travel nurses. There's something for everyone—including plenty of job opportunities—so take your pick, get packing and start exploring!
10 top travel nursing destinations to consider
1. Phoenix, Arizona
From school nursing contracts to top-paying positions in the ICU, there are no shortages of opportunities for nurses who would like to visit Phoenix. Averaging more than 300 sunny days each year, this booming city has definitely earned its nickname of "Valley of the Sun." Add in countless restaurants, museums, scenic trails, and world-famous golf courses and spas, and we can pretty much guarantee that you'll find plenty of things to enjoy on your days off.
2. Atlantic City, New Jersey
For the adventurous nurse looking for some fun, look no further than Atlantic City. This vibrant city framed by miles of Atlantic coastline has a lot more to offer than just casinos and nightlife -- although those are a major draw for many! Busy nurses can unwind after a long shift with a stroll on wide-open, sandy beaches, enjoy a sumptuous meal at a popular restaurant, visit the aquarium, or shop until they drop at any number of unique stores. With its central location, travel nurses can also take day trips to many nearby locations, including Cape May, Philadelphia or even New York City.
3. Boca Raton, Florida
As one of Florida's most beloved gems, Boca Raton is a must-see destination situated in West Palm Beach County. Besides its world-renowned beaches, travelers can enjoy a bustling downtown area and plenty of cultural attractions. One of our favorites? The Red Reef Park, home to the Gumbo Limbo Nature Center with trails, a butterfly garden and a sea turtle sanctuary.
4. Honolulu, Hawaii
At the top of many travel nurses' bucket lists is the gorgeous state of Hawaii. We're bringing Honolulu into the spotlight for its variety of travel nursing assignments available, as well as many other factors. Located on Oahu's south shore, this city is the capital of Hawaii and the primary gateway to these popular tropical islands. Watersports such as surfing, kayaking, windsurfing and paddleboarding are all the rage here and a trip to Waikiki Beach is a must for anyone who enjoys the best in dining, shopping and resort life.
5. Maywood, Illinois
If you haven't heard of the village of Maywood in Illinois (located in the Chicago metropolitan area), you don't know what you're missing. This charming town lies on the west bank of the Des Plaines River, and allows travelers to enjoy a small-town lifestyle with big-city comforts just a quick drive away. The city features several museums and historical sites--including 16 on the National Register of Historic Places--and picturesque, tree-lined streets. Onward Healthcare currently has many contracts available here.
6. San Diego, California
Known as America's Finest City and a perennial favorite destination for travel nurses, San Diego offers enviable weather, beautiful surroundings and countless things to see and do. The city offers a lively downtown scene, more beaches than you can count, a world-class zoo, SeaWorld, and numerous sports and amenities. Recently recognized by U.S. News as the "Most Fun Place to Live in America," San Diego also has many prestigious medical centers with enough contracts to keep you traveling locally throughout the area, if you choose. As a bonus, nurse travelers in San Diego will be close to Mexico and other exciting locations to visit, including Orange County, Los Angeles and Palm Springs.
7. Carrollton, Texas (North Dallas)
Carrollton is a city in the Dallas–Fort Worth area that you should keep in mind for your next travel nursing adventure. The city was recently recognized on U-Haul's list of the Top 25 U.S. Growth Cities in 2021. Residents here enjoy the city's high quality of life, abundant parks, schools and safe neighborhoods, plus close proximity to the big city attractions in Dallas—ranging from the Sixth Floor Museum and Hotel Crescent's famous afternoon tea, to the Stockyards Rodeo, professional sports teams, and a plethora options for shopping, dining and nightlife.
8. Kenosha, Wisconsin
Located right on Lake Michigan, Kenosha is one of the most picturesque cities for travel nurses. From The Southport Lighthouse with its aerial views of the city, to a sunset sailboat cruise and several notable museums, the activity options are endless here. Recreational opportunities will vary by the season, from fishing and boating to skiing and snowshoeing. This is one of the travel nursing destinations that you won't want to miss.
9. Savannah, Georgia
Known as the Southern belle of the Georgia coast, Savannah is the ideal travel nursing city for those who want it all. Here, you'll find a charming lifestyle and friendly people combined with all of the amenities that one might crave from big city living. Picture this: after-work strolls under huge oak trees that are dripping in Spanish moss, followed by dinner at a local restaurant that has been in drawing in the locals for decades. Or spend your day off at the beach, followed by a night-time haunted pub tour just for fun. Modern-day indulgences combine with a rich history and incredible scenery here in Savannah.
10. Denver, Colorado
Outdoor enthusiast? Then Denver will most likely check every box on your list for the ideal travel nursing destination. This is one of just a few places where you can make a quick drive, throw on some skis, and be heading down a powdery mountain! Or spend your days off exploring nearby Rocky Mountain National Park. The beloved Mile High City is also home to a ton of wonderful restaurants, museums and world-class sporting venues, and the newly redesigned Union Station is definitely a must-see for any travel nurse.
Pick your city for a travel nurse adventure
Caught the travel bug? The travel nurse experts at Onward Healthcare can help prepare you for the adventure of a lifetime. Start by browsing travel nurse jobs in your favorite cities.
Then just SUBMIT A QUICK APPLICATION.