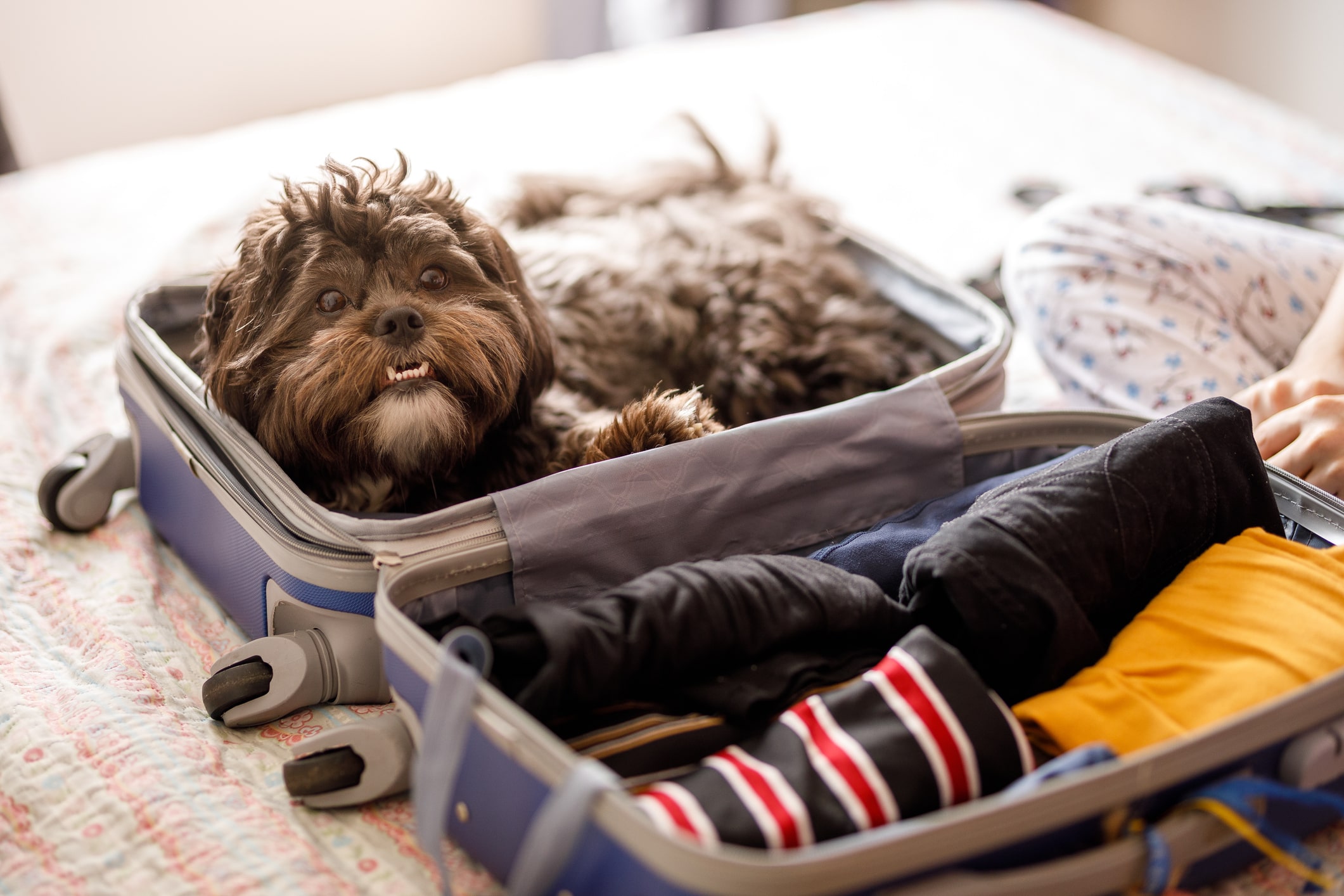 Traveling With Pets: 7 Travel Nurse Tips
"Have pet, will travel."
Sound like your motto? If so, with the right travel nurse tips, you can join the thousands of nurses who have made traveling with pets a fun and fulfilling experience.
Whether you have a cat, dog, bird or something more exotic, we have the top tips for travel nurses looking to take their animal family members on the road to adventure.
CONTACT the experts at Onward Healthcare to plan your travel nursing adventure.
7 Tips for Travel Nurses with Pets
1. Alert your recruiter as early as possible
The most important tip for travel nurses with pets is to let your recruiter know that your best friend is coming with you – and the more advance notices the better. This will allow your recruiter ample time to find pet-friendly housing.
Free housing is a great travel nurse benefit, but most apartments that accept pets will still require a pet deposit. Some also have restrictions on pet size or breed, so ask for details. Then you can decide between company-arranged housing and the housing stipend, which allows you to find your own accommodations.
Special requests may also be possible through your travel nurse agency.
For instance, one of our company's travel nurses was an avid equestrian who traveled with her horse. Her recruiter was able to help find housing with a stable nearby!
2. Plan your journey with your pet in mind
Most travel nurses drive to their assignments, but if you are flying, make sure that you have the necessary documents for your pet and are aware of all airline and TSA restrictions.
Travel nurse tips for drivers include mapping out your route, including stops where your pet can take a walk, take a potty break or get a fresh drink of water. You may also want to find fun places for you both to explore.
Travel nurses with pets that need overnight lodging can find pet-friendly hotels at PetsWelcome.com. Local restaurants that welcome pets can usually be found with a simple search on your smartphone.
3. Pack and prepare
Whether your travel nurse contract is across the country or closer to home, it will be essential to have all of your pet's "creature comforts" to make the trip and your relocation more enjoyable.
Bring your pet's favorite toys, bedding and anything else that reminds him of home. If your pet is not a great traveler, check with your vet about medications to relieve anxiety or avoid nausea.
Some travel nurse tips to ensure your pet's safety:
Invest in a sturdy crate and/or proper restraints for the trip. This can keep your pet calm, keep everyone safe and allow you to concentrate on the road.
Get a portable water bowl to keep your pet hydrated during your road trip, and for any hiking excursions.
Make sure your dog or cat has a well-fitting collar with ID tags and your current cell phone number. Use a leash every time you get out of the car.
Microchip your pet; animals are more likely to escape when they are anxious or find themselves in unfamiliar territory.
4. Plan ahead for special needs
Does your pet eat a special type of food or have any dietary restrictions? Make sure you can find your pet's food in your assignment city. Call the local pet store ahead of time or check to see if online delivery is available in your new area.
Check that your pet's vaccinations are current before you leave. If he/she is on medication or has special medical needs, take your vet's records with you, and find a veterinarian near your new home that you can contact if needed.
5. Explore your new area together
Soon after you arrive, get a feel for the area where you'll be living and working for the next 13 weeks or so; this is an especially important tip for travel nurses with dogs.
Take some time to explore the neighborhood. Scope out the restaurants and shops, especially the pet-friendly kind. Another travel nurse tip: find nearby dog parks or off-leash dog runs on DogPark.com.
Getting familiar with your surroundings will help you and your pet feel more comfortable and make it easier to acclimate to your new digs.
6. Get friendly with other pet people
Travel nurses with pets are in a unique position to make connections with other pet lovers.
Join a group dedicated to your species of pet, or take your dog or other pet out for a walk and see who you meet. Ask for recommendations on local veterinarians, dog parks and other pet-friendly resources.
Building friendships with other pet owners is one of the easiest ways for travel nurses with pets to feel a sense of community wherever they are on assignment.
7. Set a routine and find help, if needed
If your dog needs to be walked every few hours or you have an animal that takes medication at a certain time of the day, try to establish a routine at the beginning of your assignment.
And if your pet will need care while you're at work, you can find a host of qualified dog walkers, pet daycares and pet caretakers online. Some national resources include Care.com, the National Association of Professional Pet Sitters (PetSitters.org) and Rover.com.
Make care arrangements before you arrive at your new location, if possible.
Travel nursing offers freedom and flexibility in your job choices while allowing you to share your travel adventures with a beloved pet. Use these tips for travel nurses to make your next assignment an unforgettable experience for you both!
FIND your next travel nursing job or check out Onward's Resources section for more travel nurse tips.